Who We Are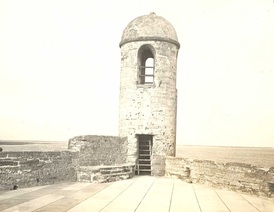 "Los Floridanos" referred to the children born to the Spanish settlers of St. Augustine during the First Spanish Period (1565-1763). Translated it means "The Floridians" and record of this title can be found in many Spanish Government documents, including the Spanish Censuses of the time.

In 1565, Pedro Menedez de Aviles, along with 600 soldiers & colonists, arrived in "La Florida" to explore and colonize for Spain. The settlers arrived during the first Spanish Period, with last names such as Aguilar, Diaz, Rodriguez, Sanchez and Solana, began their lives and families in the Presidio de San Augustin. Enduring the Florida elements, diseases, fires and attack by pirates, French, English and Indians, their efforts created the first continuously occupied city in North America, St. Augustine.

In 1763, Spain ceded the Florida Colony to Britain after the Seven Years' War, ending the First Spanish Period. The majority of the Spanish St. Augustine residents, approximately 3,100, fled to Cuba. Only a few "Los Floridanos" remained in St. Augustine to handle unsold property and settle affairs, two of these were Manuel Solana and Francisco Xavier Sanchez. Descendants of these two men still live in the St. Augustine area.
---
LOS FLORIDANOS, INC.


ARTICLE I ORGANIZATION

1. The name of the organization shall be LOS FLORIDANOS, INC., FLORIDA'S FIRST SPANISH FAMILIES, 1565-1763. The Corporation shall be referred to in these By-laws as Los Floridanos Society.

ARTICLE II PURPOSE

1. The purpose of Los Floridanos Society is to represent descendants of the early Spanish settlers of St. Augustine, Florida who arrived during the "First Spanish Period, 1565-1763". The Los Floridanos Society is an historical association formed to:

a. Educate members and the public concerning the history, heritage, and
preservation of the first Florida Spanish Families.
b. Learn what is already known through the work of the Historical Society,
University of Florida, Flagler College and other college historical archives.
c. Assist in promoting and funding further historical research.
d. Promote fellowship among the descendants of the First Spanish Period.